Delta PLC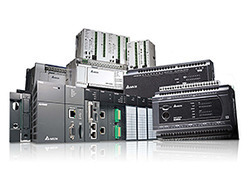 Delta PLC
Price And Quantity
Product Specifications
Product Description
Ecosys has undertaken several projects including retrofitting of machines using Delta PLC.
Delta has High Performance midrange PLCs. DVP Series Programmable Logic Controllers Offer High-speed, stable and highly reliable application in all kinds of industrial automation machines. In addition to fast logic operation, bountiful instruction and multiple function cards, the cost effective DVP-PLC also supports various communication protocols, servo, human machine interface, temperature controllers through the industrial network in to a complete Delta Solution For all users.
AH500 Series Programmable Logic Controllers
The new generation AH500 Series PLC provides automation solutions for high-level applications. The combination of modularized hardware structure, advanced functions, and the highly integrated software provides a system solution for process control applications. In addition to various function blocks (FB), excellent price/performance, and an abundant selection of extension modules, the AH500 Series PLC also provides exceptional system expandability, greatly reducing the system cost for a broad range of applications.
DVP Series Programmable Logic Controller: DVP EH3, DVP PM, DVP EX2/ES2,DVP SV2, DVP SE, DVP EC3, DVP SX2, DVP SA2, DVP SS2, DVP ES, DVP SX, DVP SA, DVP SS, DVP EX, DVP SC, DVP MC.
DVP EH3: The new generation DVP-EH3 PLC is the high-end- model of the delta DVP-E Series. It provides larger program capacity and data registers for more demanding and complex application.
Features: Excellent motion control, Complete Program protection, Outstanding operation performance, Expandable Modules and Cards, High speed extension Modules.
DVP PM: The advanced P series motion control MPU can become the motion extension module of another PM series MPU, very flexible for all kinds of application.
Features : Maximum I/O points 522, Program capacity 64K steps, 500KHz high-speed pulse output, Built-in 2 groups of A/B phase differential signal output.
DVP EX2/ES2: ES series is a small PLC for basic sequential control. It is economical, highly efficient and functional. Used in HVAC, Injection molding machine, packaging machine, logistic system.
Features :I/O ports: 256 inputs points+ 16 output points. Built-in 8 high-speeds inputs points(2 points for 100kHz,6 points for 10 KHz), Closed Loop Control, alignment mark, shield, immediate variable speed, S curve acceleration.
DVP SV2: The High end model of the Delta DVP-series . It provides larger program capacities and data registers for more demanding and complex application.
Features : High-speed pulse output: 4 sets of 200KHz pulse output, supports maximum 4 hardware 200KHz high-speed counters, complete program protection.
DVP SE: The most complete network type slim PLC in the industry
Features: Build in Ethernet, Modbus TCP, Ethernet IP, No battery required maintenance free.
DVP EC3: EC3 series is the most economical solution for sequential control and communication monitoring and can operate independently.
Features : Max. I/O points: 60,Program capacity: 4k steps, COM ports: Built-in RS-232 and RS-485 ports (available in 16-60 point models); compatible with Modbus ASCII/RTU protocol.
DVP MC: It is used in rotary and Flying Shear application.
Features : It Support CAN open Master/Slave, Device net . Synchronously controls 4 axes in 2ms and 8 axis in 4ms.
Trade Information
Cash in Advance (CID), Cheque, Cash Advance (CA)

50 Per Month