DOL Starter Panel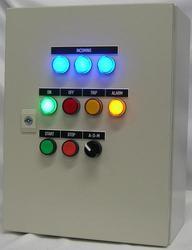 DOL Starter Panel
Price And Quantity
Product Specifications
Product Description
Ecosys Efficiencies Pvt. Ltd.
are the manufactures and suppliers of various types of starter panels like DOL starter panel, star delta starter panel, soft starters panel, pump starter panel etc.
A motor controller is a device or group of devices that serves to govern in some predetermined manner the performance of an electric motor. A motor controller might include a manual or automatic means for starting and stopping the motor, selecting forward or reverse rotation, selecting and regulating the speed, regulating or limiting the torque, and protecting against overloads and faults.
A small motor can be started by simply plugging it into an electrical receptacle or by using a switch or circuit breaker. A larger motor requires a specialized switching unit called a motor starter or motor contactor. When energized, a direct on line (DOL) starter immediately connects the motor terminals directly to the power supply. Reduced-voltage, star-delta or soft starters connect the motor to the power supply through a voltage reduction device and increases the applied voltage gradually or in steps. In smaller sizes a motor starter is a manually operated switch; larger motors, or those requiring remote or automatic control, use magnetic contactors. Very large motors running on medium voltage power supplies (thousands of volts) may use power circuit breakers as switching elements.
A direct on line (DOL) or across the line starter applies the full line voltage to the motor terminals, the starters or cubicle locations, can usually be found on an ELO drawing. This is the simplest type of motor starter. A DOL motor starter also contains protection devices, and in some cases, condition monitoring. Smaller sizes of direct on-line starters are manually operated; larger sizes use an electromechanical contactor (relay) to switch the motor circuit. Solid-state direct on line starters also exist.
A direct on line starter can be used if the high inrush current of the motor does not cause excessive voltage drop in the supply circuit. The maximum size of a motor allowed on a direct on line starter may be limited by the supply utility for this reason. For example, a utility may require rural customers to use reduced-voltage starters for motors larger than 10 kW.
DOL starting is sometimes used to start small water pumps, compressors, fans and conveyor belts. In the case of an asynchronous motor, such as the 3-phase squirrel-cage motor, the motor will draw a high starting current until it has run up to full speed. This starting current is typically 6-7 times greater than the full load current. To reduce the inrush current, larger motors will have reduced-voltage starters or variable speed drives in order to minimise voltage dips to the power supply.
A reversing starter can connect the motor for rotation in either direction. Such a starter contains two DOL circuitsone for clockwise operation and the other for counter-clockwise operation, with mechanical and electrical interlocks to prevent simultaneous closure. For three phase motors, this is achieved by swapping the wires connecting any two phases. Single phase AC motors and direct-current motors require additional devices for reversing rotation.
Trade Information
Cash in Advance (CID), Cash Advance (CA)

50 Per Month